TMA-G is a family of gas atomizers designed to produce metal powders of rounded and regular shape, to be used in many industrial, chemical, electronics and rapid prototyping application (additive manufacturing) as SLM (Selective Laser Melting) and EBM (Electron Beam Melting).
The atomizer is based on an induction furnace, working in a closed chamber under protective atmosphere, where the molten metal is poured and hit by a jet of high pressure inert gas, producing fine and deoxidized powders.
Induction heating ensures a very good homogenization of the melt thanks to the action of magnetic stirring during the molten phase.
The die unit is equipped with an extra induction generator, which allows to restart the cycle in case of cycle interruption.
Following the steps of melting and homogenization, the metal is poured vertically through an injection system positioned on the lower base of the crucible (nozzle).
The type of nozzle used in TMA-G is the so-called close-coupled nozzle.
Multiple streams of high pressure inert gas are aimed and focused on the metal beam in order to ensure a fast alloy solidification in the form of fine powder.
The real-time process variables such as temperature, gas pressure, induction power, oxygen ppm content in the chamber and many others, are displayed in both numerical and graphical format on a monitoring system for an intuitive understanding of the working cycle.
The system can be operated manually or in fully automatic mode, thanks to the programmability of the entire set of the process parameters via a user-friendly touch-screen interface.
The monitoring system can be easily connected via Ethernet to the factory network.
Technology & Features

Metals and Field of Application
Atomized Metals: Cu, Al, Zn, Sn, Au, Ag and their alloys like Bronze and Brass.
Field of Applications: industrial, chemical, electronics and rapid prototyping applications (additive manufacturing) as SLM (Selective Laser Melting) and EBM (Electron Beam Melting)
Melting
Advanced Self Tuning thermoregulation (AST™) with exact temperature control of the melted alloys
S-type thermocouple positioned inside the stopper
Two Set-Points available: Homogenization and Casting Temperature
Medium frequency induction heating stirs the melted alloy and leads to a perfect homogeneity
Pulse Stirring Management (PSM™) for an extremely low frequency stirring
Second generator for indipendent heating of the die
Atomizing Process
Close-Coupled Nozzle
Pressure / Flow regulation of the inert gases
Inert gas
The atomizer can work with Argon, Nitrogen or Helium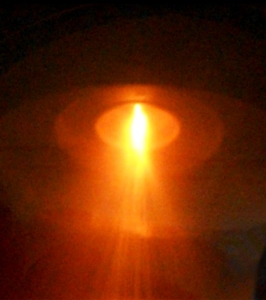 Special features
Automatic self-test of vacuum sealings, o-rings, seals and filters
Factory Network Connection: RS232, Ethernet
Troubleshooting: Connecting to an on-line via modem
Options
Oxygen Analyzer: Measurement of oxygen present in the melting chamber
Lid Locking System: Lock chamber (temperature-dependent
Technical data
TMA20g
TMA40g
Crucible working capacity 
up to 7,5 kg Bronze
9 kg Silver
17 kg Gold

up to 40 kg Bronze

50 kg Silver
13 kg Aluminium

Atomizing gas
nitrogen, argon, helium
Crucible volume
up to 1500 cc
up to 7000 cc
Induction power
20 kW
40 kW
Recovering system
cyclone, bag filter
Granulometry
according to customer spec
Max. temperature
1600 °C
1600 °C
Process time
30 minutes
50 minutes
Autotest with data report
Monitoring system for data acquisition
Vacuum leakage detector
Oxygen Analyzer
Remote assistance
Main alloys
Gold (Au), Silver (Ag), Copper (Cu), Brass, Bronze, Aluminium (Al) and their alloys
 Provided –  Available on request